'Will you be my mum and take me home?': Heartbreaking plea from young Turkey earthquake victim to Love Island UK's Ekin-Su Cülcüloğlu
Love Island UK stars Ekin-Su Cülcüloğlu and Davide Sanclimenti have shared some moments from their life-changing visit to Turkey to help British Red Cross workers.
The couple – who won Season 8 of Love Island UK – aided with the ongoing relief mission to assist communities that were affected by a 7.8 earthquake that struck southern and central Turkey and northern and western Syria in February.
The devastating earthquake killed more than 50,000 people.
Stream every episode ever of Love Island UK and Love Island Australia for free on 9Now.
Taking to Instagram, Ekin-Su – who is of Turkish heritage herself – wrote, "This trip has been the most emotional, moving experience in my life.
"I will never forget those words from the little girl who lost her mum from the earthquake: 'Will you be my mum and take me home?'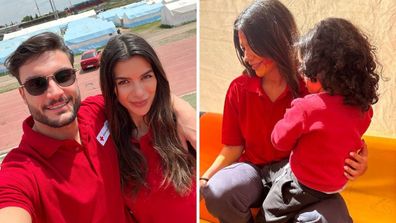 "That moment will forever stay will with me. What I learnt in this trip that love is unconditional and we always take things for granted in normal day life… life is so short. One day you're here and then the next second life is gone."
READ MORE: Ekin-Su Cülcüloğlu's heartbreaking admission about life after Love Island
Ekin-Su shared photos of her and Davide playing with the local children and helping with food preparation.
Being of Turkish heritage herself, Ekin-Su said she "felt the pain in the lost lives and many families".
Italian-born Davide revealed he also felt a personal connection to the children affected by the earthquake.
He penned this heartfelt message to Instagram: "Having experienced a big earthquake myself in 2009 (Abruzzo, Italy), I know how much of a positive effect one's help can have on people who have lost everything and have to restart from scratch, so I felt compelled to travel to Turkey and help in any way I could.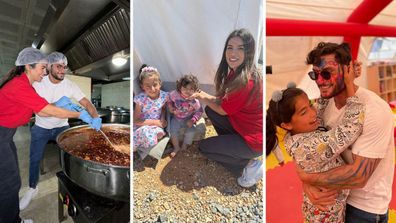 "I may not be able to rebuild houses and people's lives but I am grateful for the opportunity to have helped feeding families and giving kids reasons to smile, as well as spreading awareness about the current situation.
"We are used to a comfortable lifestyle and take most things for granted; Let's pause for a second, appreciate everything we've got and most importantly treasure every moment we're able to share with our loved ones."
READ MORE: Love Island UK's Samie Elishi reveals cancer scare after fans spot lump
Ekin-Su and Davide received praised from their combined five million followers for using their platforms to promote humanitarian aid.
"So amazing to see you raise awareness for such an important cause," one follower wrote.
READ MORE: The gadget that forced me to put my phone down
"This made me tear up. THIS is what you're meant to do and why Ekin Su is our queen," another said.
"Now this in an influencer, using your platform to bring awareness back to these poor victims," one fan commented.